Senior Consulting And Preaching
Rev. Cynthia Andrews-Looper
HOW WE WORSHIP: MUSIC, SCRIPTURE, HOLY COMMUNION FOR ALL…BRING A FRIEND…and SHARE GOD's LOVE.
Holy Trinity Church Council
Ali Langley : aliluvs2sing@aol.com
Angela Lee: Avlee1970@gmail.com
Ronald McKnight: greenpeepers66@gmail.com
Don Morgan : auntdon@aol.com
Ed Rachels: rdhdednmphs@aol.com
Steve Stephens: bubbiesdad@gmail.com
Dawn Stivers: thriving@centurylink.net
Rita White: whiteritac@icloud.com (Moderator)
Patrick Pearson: ppearson424@gmail.com
Benevolence Fund Information: benevolenceatholytrinity@gmail.com
Please find the current proposed Holy Trinity Community Church By Laws below.
---
HOLY TRINITY CHURCH PROFILE
Our church profile is ready for our search and call process.

---
Summer Food Pantry - We Need Your Help
It's Summer time, and school is out which means that our clients will include more children. We need your help to help stock our shelves for our Summer clients. We need peanut butter, macaroni & cheese, and tuna.
Any assistance will be greatly appreciated!
Blessings to you all.
Holy Trinity Community Church Family

---
Sin City Murder Mystery - Saturday, August 20, 2016
$25.00 a person $40.00 per couple. A murder mystery play and dinner. Dinner at 6:00 PM and Showtime at 7:30 PM.
What happens in Vegas , stays in Vegas. . . It has been a year since the Paramount Corporation has changed ownership and Ronald Trump, the new owner, is ready to celebrate. As the largest and most extravagant casino in the Las Vegas strip, the Paramount Casino is throwing a party of epic proportions. With the highest rollers and the gutsiest gamblers, the stakes are going to be high and there is no limit on what could happen. Everyone who is anyone in Vegas is sure to be in attendance for this grand event. From the high rolling hotel guest to the sexy show girl, the cunning cocktail waitress to Elvis himself - the guest list is as unlimited as the possibilites of how the night will end. Like everything in Vegas, the party will be a gamble and there is no certainty to the events of the evening. Whose secrets will be exposed? Which lies will be uncovered? And who will fall victim to the lawlessness of the night? Your bet is as good as ours. So get ready for a sinister evening in a city known for it's secrets and scandals.
Proceeds benefit Transformations Autism Center and Holy Trinity Church.
685 S. Highland St, Memphis, TN 38111
Phone: 901-320-9376
---
I have served as a pastor to the LGBTQ community for 20 years. I have a mother's protective heart when it comes to my community, my tribe, my people, my children. And, my mother's heart is absolutely broken. I cannot watch the reports any longer. All I can do at this point is find silence and hold the victim's families and friends in love and prayer. But, I also hold my LGBTQ brothers and sisters, in general, in love and prayer. This massacre has sent a ripple of pain through our hearts all across the country. It rips at the fabric of our psyche. But, we don't allow this pain to control us. We come together to remember, to find comfort from our shared connection and to remind ourselves that the battle we fight is a process, not an event. We come together to remember that love is the greatest power on earth. We remember that in the end, it is love that always wins. It is so easy to allow our hearts to drop into a place of hate and despair. When we do this, "they" (anyone who lashed out in hate) win.
If you are part of the LGBTQ community, let me remind you that this massacre was not God's will; nor was it from the hand of God. However, God is here, now. God is very present in our stillness, ready to offer love, peace and comfort. Many vigils of remembrance are happening across the country. I'm thankful for all who are coming together to pray and remember. I'm going to gather my little group for a time of remembering and silence as well. I have to. My mother's heart is bleeding for God's beloved and innocent LGBTQ children who were killed because of hate and ignorance. Let's not sink to their level. Let's be lifted to the peaceful, sacred and holy places of the Spirit. If you are reading this, please know that I love you. If you need to talk or pray, I am here. I'm holding you closely in my heart with love. And, God is holding all of us with an infinite love that will soothe the deep pain we are feeling. Be still. Be quiet. And, listen to the wings of the Angels around us.
In abundant love,
Pastor Cindy
---
Featured Sermons from 2016
---
The evolving nature of Christian values
Friday, June 12, 2015, Vol. 39, No. 24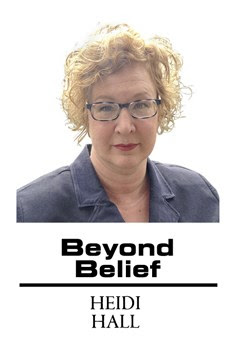 The Rev. Cindy "Cyd" Andrews-Looper's first message to Nashville: You can be gay, and you can be a conservative Christian, and there is nothing mutually exclusive about those two things.
Her next message: You can be Christian, and you can talk to angels, and there's nothing mutually exclusive about those two things, either.
Andrews-Looper resigned in October from pastoring the West Nashville church she founded nearly two decades ago, but she's busier than ever.
She's spending five months consulting, planning and preaching at Holy Trinity Community Church in Memphis, releasing a book about her life called "Two Pews from Crazy" and teaching seminars on plugging into the spirit realm.
"We read about angels in the Bible. Billy Graham wrote a book about angels," Andrews-Looper says. "They are God's messengers, they are here to help God, and God uses them to impart so much of what we need.
"They want to work in tandem with us in making our lives hopeful and living in this place of abundance, but they won't step in unless we ask."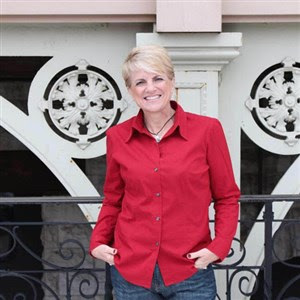 Rev. Cyd Andrews-Looper looks to reach people 40-60 years old who may be searching for something meaningful despite life's setbacks.
-- Submitted
Those ideas may not seem in tandem with her ordination in the Wesleyan church – but she resigned from that when she came out as a lesbian. Booted from her job as a traveling pastor, she arrived in Nashville from South Carolina in 1996 to work in marketing and, still moved to preach, started up a living room-based Bible study attended by eight people.
By 2006, Holy Trinity Community Church in Nashville was affiliated with the United Church of Christ denomination, plus had its own building and three Sunday services.
Her congregation was predominantly gay and overwhelmingly from Southern Baptist, Church of Christ or Pentecostal traditions – churches where they were denied full participation or rejected outright. She performed 10-15 same-sex wedding ceremonies a year, even though the state of Tennessee didn't see those as legally valid.
She became an active and well-known figure on Nashville's mainstream religious scene.
Last year, already in touch with a spiritual intuitive about messages she believed were from her dead father – at first through dreams, but sometimes through the appearance of doves, she says – Andrews-Looper took her first sabbatical from the church. She spent a month on Florida's Gulf beaches, meditating, journaling, painting, praying and walking.
When she returned to Nashville, she made the emotional decision to break with Holy Trinity and pursue her new path – a mixture of Christian theology, Eastern philosophy and New Age spirituality.
Christian faith has an element of fear, she explains, but that's not necessary. Perhaps Jesus didn't talk about vibrational frequency or the law of attraction, but in John 15, he talks about living within his disciples and the commandment to love.
She's aiming her message to an audience of people ages 40-60 who have done everything right, at least in this physical world's estimation – earned an education, got a job, joined a church, got married and had kids. But instead of feeling fulfilled, they've been left underemployed by the recession, divorced at least once, perhaps addicted to drugs or alcohol or something else – and completely disillusioned.
Andrews-Looper wants to tell them that none of those surface things are real.
"My desire is to speak to the very real part of them, the authentic part of them – their soul," she explains.
"I want to remind them that they are and always have been an eternal, spiritual being infinitely loved by God. Somewhere along the way, when all this was happening, they disengaged the unseen spiritual realm.
"The physical realm is defined by scarcity and finiteness. Who they are is not this physical body. Who they are is their soul."
Intelligent people can debate that theology. What's clear is Andrews-Looper's passion for it – a passion perhaps lost after years of preaching her traditional brand of Christianity, inclusive as it was.
To reach her, email igniteursoulnow@gmail.com.
---
July Events
Adult Sunday School, Sundays at 9:30AM
Choir Practice, Tue. at 6:30PM
Bible Study/Potluck, Wed. at 6:30PM
Holy Trinity Recommendations
Last fall, we asked you to complete a survey to gather your input on information about Holy Trinity. The survey results are in. Please find the survery results here.
---
Life Group Meetings
Bartlett
Alicia Smith bluidgrl4@gmail.com

Phoenix Rising Sun
Robert Morgan Pearson robertmorgan2126@gmail.com
Ariana Abelli greenfire_814@ayhoo.com

Midtown
Donna Young donele@hotmail.com
Courtney McDonnell mrs_hyphen@yahoo.com



---
Facilities Management

If anyone needs to borrow or use church property or facilities, please inform Holy Trinitiy's facilities coordinator, Don Morgan to make arrangements to do so.
---

Monthly Events

Monthly Potluck
Last Sunday of every month
---
Ignite Your Soul Now Ministries
11:00 A.M. Worship
Greetings! I greet you with hope in the name of the Risen One!
In July 1996, I began a small Bible study in Nashville, TN with a few friends. I had no idea that in two months that little group would have blossomed to 25 and would want to start a church. There was a need for a safe spiritual place for the lgbtq Christians to attend. I knew that I didn't want the church to be a "gay church." I wanted it to be a church who sought to follow Christ and live out His unconditional love for all who entered. Someone in our group knew of and had attended Holy Trinity-Memphis and suggested that we reach out to the pastor. I did and in early November, I, my partner and two members of our little church came and spent the weekend with the Rev. Tim Meadows and his partner, Chris. The conversations and support we received from them was life-giving to me. They shared so much helpful information and offered to help in any way possible. The highlight was worship on Sunday at an old bread factory that had been renovated and made into a sacred space. The Spirit and Presence of Christ was palpable. And, there were over 150 in worship that day!! We were blown away by the vitality of this amazing congregation. We were filled to overflowing with God's love from our brothers & sisters. We were so moved, in fact, that we ask if we could call our little church in Nashville, Holy Trinity Community Church as well. And, we did! Your congregation allowed us to use your tax ID number until we could file and receive our own. We also used the bylaws already outlined by your church and began our official journey in Nashville!
In the summer of 1998, my son, Hayden, was born. In the fall, my partner and about a dozen friends made the trip to Memphis to have him baptized. You had moved from the bread factory to purchase your own property, a bank which you had renovated into a sacred space. Once again, the love and support from your congregation was amazing! Over the years, I stayed in touch with Tim and our congregations did retreats on occasion. As HT-Nashville began to grow, it became more difficult to stay in touch. However, the place that Tim Meadows and the members of the HT-Memphis congregation have held in my heart has never changed.
I was contacted by the HT-Memphis leadership about helping with the transition that would follow Paul being called to another church. Because of the place you have held in my heart for many years, it took me little time to seriously consider accepting this assignment. I prepared a proposal that would allow for visioning and growth into the future. Your council accepted it and I have prepared a campaign called, Forward in Hope Together. We will walk together and discover who HT-Memphis is at her best. We will vision and plan for the future. We will find new connections and renew old ones. We will step into the divine birthright of abundance and blessings for HT-Memphis! You will be well prepared for the 25th anniversary in October. I envision a standing room only crowd to celebrate this amazing milestone.
I hope you are as excited as I am. This is going to be an amazing journey together. We will stand back in October and celebrate what God has done in us and among us. If you have friends or family who do not have a church home, please invite them. If you know of members who no longer attend and have not found another family of faith, please invite them to return. We will journey Forward in Hope Together!
Peace and grace to you, my dear brothers and sisters!
HOLY TRINITY FOOD PANTRY
The Food Pantry at the church continues to have steady use by our neighbors in the community hard hit by the economic times we are presently facing. Donations of food from congregants has sustained the pantry. This week our needs included canned meats, soups, canned vegetables, canned fruit, pasta, pre-packaged ready to eat meals and any other non-perishable product that hungy people might need. Food donations may be dropped off at the church office.
Food Pantry Hours
Monday - 10AM - 4PM
Tuesday - 10AM - 4PM
The generosity of our congregation to support this important outreach to our neighborhood has been remarkable. Thank you for caring enough to make a difference.
---
Would you like to donate to Holy Trinity? You may do so via Paypal, the safer, easier way for online contributions.